Features
● Round & Square recessed frame with single head & dual head for option
● The hiding light body can be flexibly push-in and pull-out, rotatable 350° and tiltable 90°.
● Highly efficient plastic reflector enhances lighting performance with even light distribution.
● Optic lens stay in deep of the housing guarantees anti-glare UGR<22
● Heatsink passive cooling design enhances heat dissipation efficiency.
Applications
Indoor applications: used in fashion shops, retail shops, shopping malls, and other commercial applications.
Options:
Dimmable TRIAC, 1-10V, DALI
CRI>80 / 90
Beam angle 15°, 24°, 36°

Tango Round Spotlight 12W 24W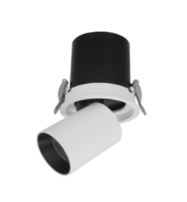 Model No.

Power

Lumen

CRI

CCT

Beam Angle

Dimension

Cutout

LMC-TGR12W

12W

1000 lm

(±100)

80/90

30

00K/4000K

15/24/36°

ø100*H100

92mm

L

MC-TGR24W

24W

2200 lm (±200)

80/90

30

00K/4000K

15/24/36°

ø115*H145

105mm
Tango Square Spotlight 12W 24W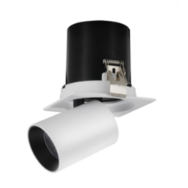 Model No.

Power

Lumen

CRI

CCT

Beam Angle

Dimension

Cutout

LMC-TGS12W

12W

1000 lm

(±100)

80/90

30

00K/4000K

15/24/36°

ø100*

100*

H100

90*90mm

L

MC-TGS24W

24W

2200 lm (±200)

80/90

30

00K/4000K

15/24/36°

ø130*

130*

H135

120*120mm
Tango Square Spotlight 2*12W 2*24W
Model No.

Power

Lumen

CRI

CCT

Beam Angle

Dimension

Cutout

LMC-TGS2*12W

2*12W

2000 lm

(±100)

80/90

30

00K/4000K

15/24/36°

ø100*

185*

H120

90*175mm

L

MC-TGS2*24W

2*24W

4400 lm (±200)

80/90

30

00K/4000K

15/24/36°

ø130*

240*

H135

120*230mm